Believe ghosts before Angels. Ghosts speak from experience.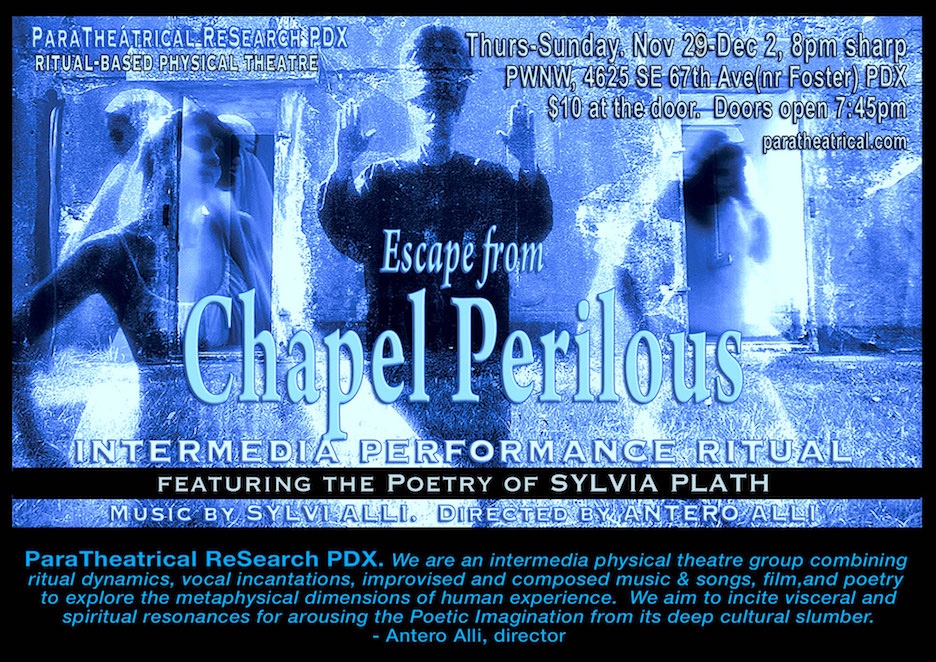 Let us know you're coming on FaceBook



---
"Chapel Perilous, a dimension beyond the time/space continuum where
living souls leave their physical bodies, as in dreams, performing rituals of
obsession until returning to human embodiment. Meanwhile...two wayward
monks wander into the Chapel as Father Timeless delivers six sermons
to the newly arrived congregation of lost souls (see sermon #4 below)."
- Antero Alli, director

---



featuring
MEMORIE EDEN, LINDSAY REICH,
MAPLE HOLMES, and HELIA RASTI
as The Living Souls

JOGEN SALZBERG and PATTON SMALL
as The Wayward Monks

BRYAN SMITH
as Trickster Jesus

SYLVI ALLI
as Mad Mary

ED WELSH
as Father Timeless


Zachery Martin & Sage Reilly, Tech Assistants.
Video & guitar, Antero Alli. Musical direction by Sylvi Alli.
Poetry by Sylvia Plath. Ritual direction by Antero Alli.

Click this for The Labyrinth Lab
on workshopping this performance




click above for more stills from film sequences and hear "Companions of the Flame"
as featured in in "Escape from Chapel Perilous"


"Chapel Perilous, like the mysterious entity called "I", cannot be located
in the time-space continuum: it is weightless, odorless, tasteless, and
undetectable by ordinary instruments. Indeed like the Ego, once you're
inside there doesn't seem to be any way to ever get out, again, until you
suddenly discover that it has been brought into existence by thought
and does not exist outside of thought." – Robert Anton Wilson