---
FROM RITUAL TO THEATRE

---

"A Turbulence of Muses" (December 2016 performance)
click above for production information

As of Jan. 2017, Zero Labs (entry level work) will no longer be offered.
Weekend Training Intensives (Sat/Sun; 6 hours each day) are periodically
scheduled for new participants with the option of continuing in Paratheatre
Labs (10-16 weeks) to develop new experimental theatre works.
Training Intensives, Labs, Performances in Portland, Oregon.
Antero Alli, Artistic Director; Sylvi Alli, Music Director
antero@paratheatrical.com and 503-299-4064


PODCAST (Jan.26, 2017)
Antero Discusses the Transformative Influence
of Paratheatre and its Application in Performance
by Andrieh Vitimus and Jason M. Colwell



---
The 2-Faced Clowns Lab
10 Sundays; Feb. 5 - April 9

---
The 2-Faced Clowns Lab
10 Sunday Nights, Feb. 5th - April 9th
NOTE: This lab now in progress.
Click above image for details



---
"Dreambody/Earthbody"
A Paratheatre Video Document by Antero Alli
Saturday April 8 at 3pm

---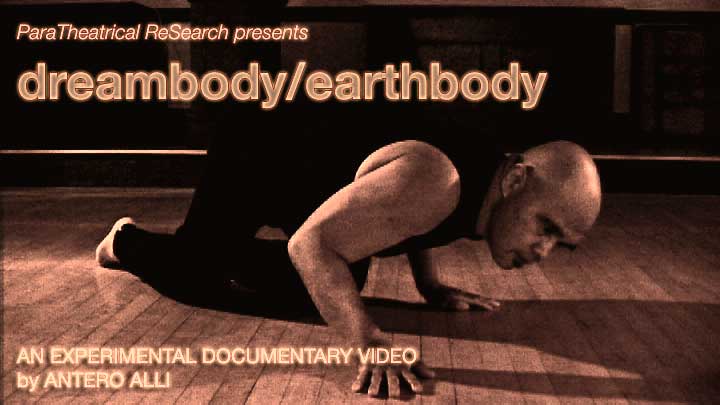 Saturday April 8th at 3pm
Portland Underground Film Festival
Clinton Street Theater, 2522 SE Clinton, Portland OR
$5-8. suggested donation. Filmmaker in person.

Seven individuals enact a ritual choreography of movements
recalled from their nocturnal dreams. This process bypasses dream
analysis in favor of tapping the Unconscious as a fertile wellspring of
creative force unleashed in patterns of motion, form, and sound.

~ CLICK ABOVE FOR MORE DETAILS ~



---
"BARDOVILLE"
A PARATHEATRICAL PERFORMANCE RITUAL
Fri/Sat/Sunday May 12-14; 8pm

---
~ CLICK ABOVE FOR MORE DETAILS ~




---
ANCESTORS' LAB/Ritual Camp
5 Sunday Nights July 9-Aug 6, 7:15pm to 10:15pm (indoors)
Mon/Tues/Wed. Aug 7-9 (camping in the Columbia River Gorge)

---
Click above image for more details