Directed by Antero Alli (incorporating Coleridge's Kubla Khan)

~ THE PERFORMERS ~
PARADOX POLLACK, SERENE ZLOOF, ALASKA YAMADA,
BRIAN LIVINGSTON, NICK WALKER, JULIAN SIMEON,
DESMONDE DAISY, GABRIEL, ADAM PALERMO,
JUSTIN PALERMO and JAKOB BOKULICH.
Live music & soundscape by Sylvi Alli


click this to watch a brief video clip of the performance

Haunted by the deaths of his friends and loved ones, an actor drifts through
the reveries of an absinthe binge that erupts in a bevy of strange ritualistic
dreams from which he periodically awakens and lapses back into.

click this to watch the entire video document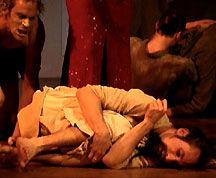 .
left to right: Gabriel Dietz, Brian Livingston, Paradox Pollack, Nick Walker


Every day we talked, we walked around. Talking. But mostly, he listened.
Down that path around the church but never inside the church. Never inside
but always around the church, way in back, in the garden. In the garden he told
me things I always deep down wanted to believe but. Things like... angels dancing
on the head of a pin. Angels descending and ascending, angels rising and falling all
around us. All the time, melting into the ground. I didn't want to believe him.
He said, it doesn't matter what I believe because it's all true anyway.
You said God doesn't need belief. God creates belief.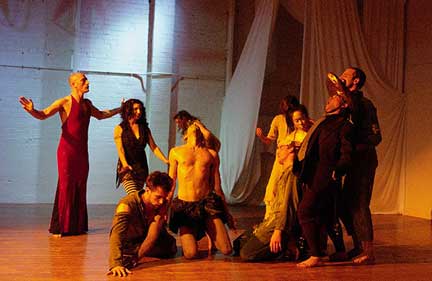 Program Notes
by Antero Alli; w. more pix
THREE PERFORMANCES IN 2004
Sunday March 21, CELLspace, San Francisco
Sat. & Sun. March 13/14, WILDCAT STUDIOS, Berkeley
Running time: approx. 70-80 minutes per performance

---

How This Performance Developed


---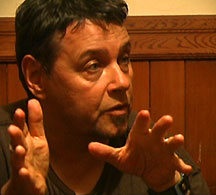 Antero Alli, director
Each paratheatrical lab pivots around a different theme that, in part,
determines the nature of the group outcome. The lab theme defining this
Orphans of Delirium project was "initiatic experience". We explored ritual
forms for triggering states of consciousness unknown to us, where we had
no previous references or maps forcing us to find our way intuitively."

Director's Ritual Journal
From the "Initiations" Lab that led to this "Orphans" project