Antero Alli
- paratheatre

Click above image for Wikipedia profile


ANTERO ALLI, founder/director of ParaTheatrical ReSearch, has written, directed, and performed in numerous experimental theatre productions between 1975 and 2005. His paratheatre work was initiated by David Rosenbloom in 1977 and documented in Alli's book, "Towards an Archeology of the Soul" (Vertical Pool, 2003), in four videos, and by Nicoletta Isar, Professor at the Institute of Art History, Copenhagen University. Alli's personal paratheatre experience inspired the creation of a series of feature-length art films including "The Greater Circulation" (2005; 93 min) a critically acclaimed cinematic treatment of poet Rainer Maria Rilke's "Requiem for a Friend", and "The Invisible Forest" (2008; 111 min) a docufiction exploring the radical ideas of French Surrealist playwright, Antonin Artaud. Antero conducts paratheatre labs each year in Berkeley California where he resides.

---
early training and paratheatre development
updated: 7/31/2014.
---
EARLY TRAINING
My earliest theatrical training came in 1970/71 from physical theatre artist Keith Berger (protege of Paul J. Curtis, American Mime Theatre, NYC) and at the Lee Strasborg Institute (1971-72; method acting with Peggy Feury in Hollywood). From 1972 to 1982, I taught mime theatre and performed a series of solo & group mime pieces. In 1976, I participated in a series of paratheatrical experiments directed by David Rosenbloom who was inspired by Polish theatre visionary, Jerzy Grotowski (1933-1999).


THE GENESIS OF A PARATHEATRE MEDIUM
In 1977, I started developing my own paratheatre medium combining principles and techniques of physical theatre, dance, Zazen meditation, and voice/song to access the internal landscape within an asocial setting. Over the next thirty-plus years and three cities (Berkeley CA, Boulder CO, and Seattle WA), I initiated hundreds of individuals to this paratheatre group work. I have no ambitions or pretense for emulating or replicating anything "Grotowski" or "Brook" or "Artaud". It has been enough to continue learning from our own experiments and their bounty of new errors, corrections and insights.



Paratheatrical ReSearch workspace and Pinnacles Wilderness


PRIVACY, WILDERNESS, & FALLOW PERIODS
Most of my ongoing group work occurs in privacy (no audits or audience) with occasional sojourns to wilderness settings. If and when this private work develops into something worth sharing, I begin structuring a performance vehicle in collaboration with the participants. Advancement in this medium necessitates fallow periods -- usually four to eight weeks between Labs -- where no paratheatre work occurs and when the lingering consequences of this dynamic process can find integration in daily life.


VALUES, ETHICS & PURPOSE
No established theatre company or tribal entity exists, nor are we a social group or a "cult" (nor am I a "guru"). In addition to the many who participate in the short-term, a core group of individuals exists that come and go according to the next ritual lab, paratheatrical performance, or film/video project. Though no formal paratheatre dogma exists, the core values of integrity and autonomy define the ethos of this medium. The overall purpose of this parathetre work is to provide a safe space for developing individual talents and skills, within an asocial group ritual dynamic, towards greater access and expression of the internal landscape.



from "The Invisible Forest" (2008) and "The Greater Circulation" (2005)


DOCUMENTATION, PUBLIC EVENTS, FILM PRODUCTION
Over three decades of non-performance oriented ritual labs, certain themes and directions have developed to become public events, lectures, demonstrations, video screenings and performance rituals (also see Production History section below). The techniques, principles, and rituals applied in this work are also documented in my workbook, "Towards an Archeology of the Soul" and in four video documents (watch video clips here). An audio CD, Songs as Vehicles (2005; 43 min.) was produced as a record of the 2004 Song As Vehicle lab.


In 1996 singer/composer Sylvi Alli and I established Vertical Pool Productions in Berkeley CA as a ParaTheatrical ReSearch affiliate to serve our ongoing artistic collaborations with others in video, film, and music production. Since 2000, paratheatrical processes have inspired and informed the music, story, and characters of six feature-length art films: Tragos (2000), Under a Shipwrecked Moon (2003), The Greater Circulation (2005), The Invisible Forest (2008) To Dream of Falling Upwards (2011) and Flamingos (2012).



from "dreambody/earthbody" (2012; 80 min. video/dvd)


THE DREAMING RITUAL
In early 2008, I reached a personal crisis around the purpose of this work, a crisis that I traced back to 1986 during an initiatic encounter with Australian Aborigine (koori) elder Guboo Ted Thomas -- a meeting that upstaged my assumptions around the nature of dreams. Throughout 2008 and 2009, over four separate ritual labs, a recalibration of intent occured in the group workings of a "dreaming ritual" I discovered in 1986 involving a precise choreography borrowing kinetic properties recalled from nocturnal dreams (without interpretation or dream analysis). In 2012, I produced a paratheatre video document, "dreambody/earthbody", demonstrating the prepatory stages and execution of the dreaming ritual -- in solo and group contexts. The video premiered Nov 15th, 2012 at the ParaTheatrical ReSearch workspace in Berkeley. "dreambody/earthbody" is now available on dvd.


THE MUSES ARCHETYPE
This two-year dreaming ritual project unexpectedly laid the groundwork for ritual dialogue with the Muses archetype. In the Spring of 2010, the Muses Lab proved revelatory and inspired the scripting and production of my 2011 feature movie, To Dream of Falling Upwards and Sylvi's 2010 music CD, Vessel. On the Winter Solstice 2010, we returned to the Muse in the "Ritual Actions of the Muses" Lab to advance our research. This second Muses Lab explored the distilling actions of the creative process which inspired my next feature fiction movie, Flamingos, (2012); click this for Muse Lab2 notes. On November 7th 2011, we entered the third in this series (the Muses Trinity Lab) and then, almost three years later, for the fourth time during the summer of 2014.


-- Antero Alli
Founder/Director, ParaTheatrical ReSearch
antero@paratheatrical.com





---

production history
Antero Alli, writer/director/producer (unless otherwise noted)

---
Rainer Maria Rilke's "REQUIEM FOR A FRIEND"
Intermedia Performance Ritual incoporating Rilke's text (circa 2005)
Leah Kahn, Sylvi Alli, Felecia Faulkner, Paradox Pollack, Nick Walker, Lee Vogt, Antero Alli
A reprise of the 1990 paratheatrical treatment of Rilke's lyrical lament as a live performance
ritual which was filmed and incorporated into "Rilke's Requiem" a feature dv-film. Translated by
Stephen Mitchell. Music by Sean Blosl and Songs as Vehicles. ParaTheatrical ReSearch.
May 21, 22, 28, 29, 2005. Finnish Brotherhood Hall, Berkeley .

"SONGS AS VEHICLES": Winter Solstice Performance Ritual
Towards the embodiment of songs in a cross-cultural context
Ten vocal performers work for three months on one song each, chosen from their ancestral
culture, towards their ritualistic embodiment in solos, duets, trios, quartets, quintets, and
mass cacophonies. Performers and their ancestral sources: Lily Nova (France), Julian Simeon
(Philippines), Olga Kupriyanova (Bulgaria), Gary Belanoff (Russia), Antero Alli (Finland),
Sylvi Alli (Deep South, USA), Linda Rose (Sicily), JoJo Razor (Scotland), Robin Coomer
(Ireland), and Nick Walker (Autism). Dec. 20, 2004. Finnish Brotherhood Hall, Berkeley.
Audio document recorded (CD)

"ORPHANS OF DELIRIUM"
Paratheatrical performance rites incorporating Coleridge's "Kubla Khan"
An actor drifts through reveries of an absinthe binge that erupts in a bevy of ritualistic dreams
where aspects of his psyche materialize before him. PARADOX POLLACK, SERENE ZLOOF, ALASKA
YAMADA, BRIAN LIVINGSTON, NICK WALKER, GABRIEL, JULIAN SIMEON, DESMONDE DAISY, ADAM
PALERMO, JUSTIN PALERMO, JAKOB BOKULICH. Live music by SYLVI ALLI. Text also by Paradox
Pollack. Video document recorded. ParaTheatrical ReSearch. March 2004, Berkeley & SF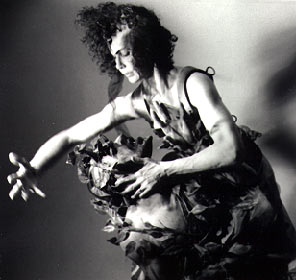 from "Hungry Ghosts of Albion " (1999)
"HUNGRY GHOSTS OF ALBION"
Two-act Intermedia Dream Play
Two lovers attempt to make a short film based on a monologue from Chekhov's "The Sea Gull."
When they sleep at night, the ghosts of William Blake and Isaac Newton appear in their dreams;
when Blake and Newton sleep, they dream the lovers awake. Meanwhile two mythic archetypes,
Anima and Daemon, intervene and orchestrate the dreamers into a ritual of mystical union.
Neil Howard, Dan Wilson, Gary Barth, Sylvia Burboeck, Nick Walker, Deanna Anderson.
With additional text by William Blake and Isaac Newton. Video document recorded.
Live music by SYLVI ALLI. ParaTheatrical ReSearch & Vertical Pool, May 1999, S.F.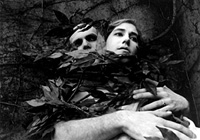 from "Hungry Ghosts" (1998)

"HUNGRY GHOSTS"
Two-act Intermedia Dream Play
with sean john walsh, Jennifer Pratt and Kevin Haggerty, Ed Byrne.
ParaTheatrical ReSearch workshop production; May 1998, Seattle WA
(Video document recorded)

"MASS OF THE ICONOCLASTS"
Winter Solstice performance ritual
with Stephen Pitts, Richard Bradshaw, Camille Hildebrandt, Steven Miller,
Gavin Greene, & others. Video document recorded. ParaTheatrical ReSearch;
Oct-Dec 1992, Masonic Temple, Seattle WA


from "Archaic Community " (1991)

"ARCHAIC COMMUNITY "
Paratheatre Experiment/Video Document
with Richard Bradshaw, Camille Hildebrandt, Steven Miller, Kenny Telesco,
Gavin Greene, Julian Simeon, Troy Skeels & others. Video document recorded.
Music by Sylvi Alli. ParaTheatrical ReSearch; Fall 1991, Masonic Temple Seattle WA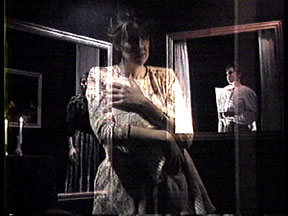 from "Requiem for a Friend" (1990)

"REQUIEM FOR A FRIEND"
Performance ritual incorporating poetry of Rainer Maria Rilke
with Jadina Lilian, Sylvi Pickering, Camille Hildebrandt and Kia Sian; Kara Amundson, cello
Rilke's tribute to friend and artist, Paula Modersohn-Becker, in the wake of her sudden death
stemming from childbirth complications. Text by Rilke translated by Stephen Mitchell. Music by
Sylvi Alli. Video document recorded. ParaTheatrical ReSearch. Oct. 1990. Bell Gallery, Seattle.


"CROSSING THE WATER"
Performance ritual incorporating poetry of Sylvia Plath
Antero Alli, Camille Hildebrandt, Richard Bradshaw, Steven Miller, Gavin Green
(ParaTheatrical ReSearch; Spring 1990, Wonderful World of Art Gallery, Seattle)


"ANIMAMUNDI"
Performance ritual inspired by the Myth of Orpheus and Eurydice
Created & performed by Antero Alli & Camille Hildebrandt. Music by Sylvi Alli
(ParaTheatrical ReSearch; Autumn 1989, Victoria BC/Seattle/Portland/Berkeley/Santa Cruz)


"CHAPEL PERILOUS"
Dreaming Phases for Lovers
a 2-act play based on archetypes of the "anima" and "animus"
Antero Alli, Leesanne Modine, Marc Sabin, Molly Dwyer, Julian Simeon,
Cedrus Monte. Directed w/Marc Sabin. Executive producer, Cathleen O'Connell.
Theatre 23. Jan/Feb. 1983 (Cinnabar Theatre, Petaluma; Studio Eremos,
S.F. Helen Schoeni Theatre in Mendocino)


"WHERE I ?"
Mimetic treatment of Robinson Jeffers' poetry
with Antero Alli, Jacob Shefa and Johanna Modisette.
Barbara Rose Shuler, recitalist; Peter Metcalf, cellist
(Point Blank Mime Troupe; Spring 1982, Carmel CA)

"THE CONJUNCTION"
Two-act Alchemical Mystery Play
A writer's night dreams force a confrontation between his craft
and pending fatherhood. with Carole Swann, Harvey Wasserman,
Ben DiGregorio, Theresa Laferriere, Antero Alli.
(The Chamber Theatre Troupe; 1978, Berkeley).


"SONGS OF INNOCENCE & EXPERIENCE"
Performance ritual utilizing William Blake's poetry
with Leslie Mahler, Antero Alli, Ben DiGregorio, Theresa Laferriere
(The Chamber Theatre Troupe; 1978, Berkeley)


"CORONATION AT STILLNIGHT"
Two-Act Play inspired by Dante's "Divine Comedy" (utilizing choir)
In his dreams, a man unexpectedly discovers he has passed away and about to
be judged in his afterlife. with Antero Alli, Ben DiGregorio, Theresa Laferriere,
Sima Wolf, Terri Shell, David Cohen, John Rock (The Chamber Theatre Troupe;
November 1977, Berkeley/Crown Hall, Mendocino)


"HIM"
A 3-Act Poem Play by e.e.cummings
Paul Townsend, Antero Alli, Dan Risko, Sima Wolf, Mary Forcade
and many others (1976, Mendocino Art Center Theatre)


"CIRCLES"
A Full-length Mime Play with Music and Accompanying Text
Seven mute characters portray aspects of one psyche interacting within
itself and and unravelling in the wake of a series of outside interruptions.
Antero Alli, Brian Wasserman, Julie B. Oak, Leigh Lightfoot, Sima Wolf.
Spring 1975, Berkeley; Mendocino Art Center Theatre)


DUDESHEEP THEATRE COMPANY
Experimental theatre company living and working communally
in a downtown Oakland mansion. Performances included Jean Claude
Von Itallie's "The Serpent" and a theatrical/ritual treatment of sections
from "Tibetan Book of the Dead". With Dale Fast, Judith Kangar, Dean Webb,
Antero Alli, Bruce Sorensen, David Luddington & others. (1972-73, SF)

---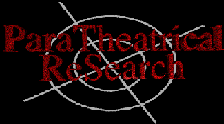 ANTERO ALLI, director/founder
P.O. Box 10144, Berkeley CA 94709 USA
voicemail: (510) 464-4640
antero@paratheatrical.com