PARATHEATRICAL RESEARCH PRESENTS

Rainer Maria Rilke's
REQUIEM FOR A FRIEND
Staged as an Intermedia Performance Ritual
Conceived and directed by Antero Alli
Translation by Stephen Mitchell

Four Nights Only
Sat/Sun; May 21, 22, 28 & 29, 2005. 9pm
FINNISH BROTHERHOOD HALL
1970 Chestnut (at University Ave, near San Pablo Ave), in Berkeley
$10. donation (at the door; no reservations). Seating limited to 50
Doors open at 8:45pm

NOTE: These performances were filmed as part of Antero's 2005 feature movie,
"THE GREATER CIRCULATION", which incorporates Rilke's "Requiem For a Friend".

---
20 minute excerpt from the performance

---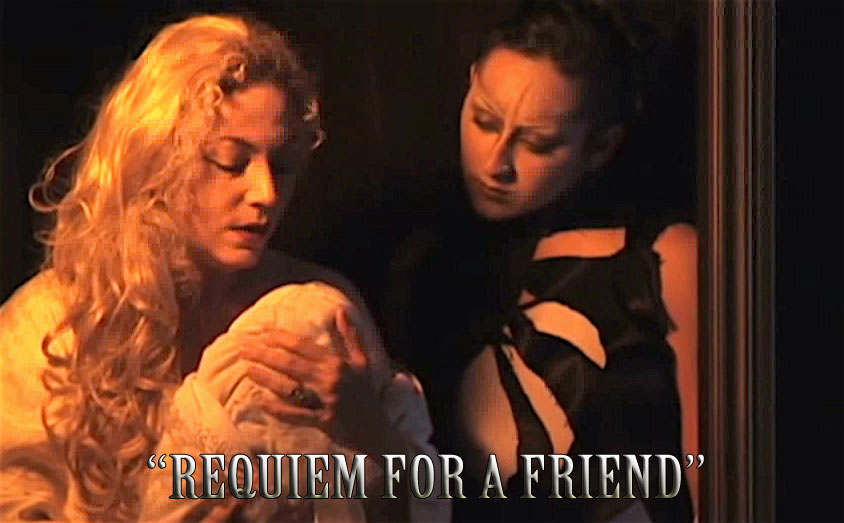 excerpt from the Performance (May 2005; 20 min.)
Berkeley CA. Click this for film project details



---
THE CAST & SYNOPSIS

---
SYLVI ALLI as the Artist (left)
FELECIA FAULKNER as the Mother (center)
LEAH KAHN as Soul Torn Between (right)

(above) NICK WALKER as Embryo and ANTERO ALLI as The Voice (May28/29)
(May 21/22): PARADOX POLLACK as Embryo and LEE VOGT as The Voice

SYNOPSIS
In these performances, three women portray three aspects of one woman
-- Artist, Mother, Soul Torn Between -- through a series of isolated ritual
actions that gradually converge: an artist creates a painting , a mother embodies
a painting come to life, the soul torn between performs her symbolic dance
catalyzing a fourth entity -- Embryo -- into being.

OPENING RECITAL
JACKIE PEREZ GRATZ, solo electric cello improvisation
(May 21/22): MERLIN COLEMAN, original songs on cello

---
"Requiem For a Friend"; excerpts, link to entire text
---
Rilke (1875-1926) wrote "Requiem For a Friend" as a tribute to his friend
and painter, Paula Modersohn-Becker (1876-1907), who suddenly died
eighteen days after giving birth to her first child.

"I have my dead, and I have let them go, and was amazed to see them so contented,
so soon at home in being dead, so cheerful, so unlike their reputation. Only you return;
brush past me, loiter, try to knock against something, so that the sound
reveals your presence. Don't take from me what I am slowly learning."


"Once ritual lament would have been chanted; women would have been paid
to beat their breasts and howl all night, when all is silent.
Where can we find such customs now ?"


"...I'm sure you have gone astray if you are moved to homesickness for anything
in this dimension. We transform these Things; they aren't real, they are only
the reflections upon the polished surface of our being. I thought you were
much further on. It troubles me that you should stray back, you, who have
achieved more transformation than any other woman..."


from the translation by Stephen Mitchell
and used with his kind permission


"REQUIEM FOR A FRIEND"
The text in its entirety

---

Director's Notes

---

Rilke's "Requiem For a Friend" is a lyrical lament of considerable depth and substance and, one of the poet's most personal prose works. I am compelled by its narrative structure -- which doesn't read like "a poem" as much as a stream of consciousness -- and its subtle powers of invocation; not just to Paula Modersohn-Becker (the artist he wrote it for) but, also to Rilke's own poetic muses.


This will be my second paratheatrical staging of Stephen Mitchell's translation of "REQUIEM" (the first was in Seattle 1990). Since that initial immersion, a rich subtext has been revealed to me in Rilke's confessions and convictions around death and loss and their transformation of love into art...a kind of alchemy Rilke sometimes called "the greater circulation" (also the title I have chosen for my current feature film project which will include footage from these performances; click this for details).


The paratheatrical processes we underwent to arrive at this performance insist on metamorphosis. Each night all of the performers are serving sources discovered over an eight week period. Each night culminates in a different performance. The Artist paints a new self-portrait every night. The Mother explores a spectrum of forces between "mercy" and "severity" within the physical constraints of a large picture frame. The dance of the Soul Torn Between unfolds an organic cellular choreography of forces innate to the body. The passive Embryo blindly reacts to his own birth and becomes an entity. Not theatre by any traditional definition, these performaces present a living ritual in a theatrical way whose aim is to serve the spirit, the tone, and the form of Rilke's text.


-- ANTERO ALLI

---

Links to Writings by and about Rilke

---
RAINER MARIA RILKE AND PAULA MODERSOHN-BECKER
The stories behind their meeting (1900-1907)
POETRY OF RAINER MARIA RILKE
from multiple eras of his career
"ON LOVE & OTHER DIFFICULTIES"
two samples of writings on relationships
BRIEF BIO OF R.M.RILKE
with photos of Rilke and those who knew him